The collapse of the Florida International University (FIU) bridge remarks the unnecessary "risk" of 'non-engineers' making engineering decisions, the Standing Committee on Structural Safety (SCOSS) highlights in its latest report.
The FIU bridge in Miami-Dade County was being constructed by Magnum Construction Management (MCM) under a design and build contract when it collapsed on to a live eight-lane road on 15 March 2018, killing six people and injuring eight others.
A National Transportation Safety Board (NTSB)'s report on the collapse published last year concluded that design calculation errors made by MCM's consultant Figg Bridge Engineers were ultimately to blame. But failures by the independent design checker, client, contractor and on-site construction supervisor also contributed to the collapse.
UK engineering safety body SCOSS has now highlighted a number of recommendations to prevent a similar disaster from occurring again.
Among its recommendations, SCOSS calls for qualified engineers to be solely responsible for making engineering decisions.
SCOSS argues that due to the "increasingly fragmented nature of the industry" engineering decisions are often made by "non-engineers [who do] not understand the implications of their decisions".
It adds that this is a "widespread issue" which needs to be corrected.
Recommendations also include the introduction of "'what if' contingency planning", reforms to design and build contracts and better training to spot early warning signs of a failure.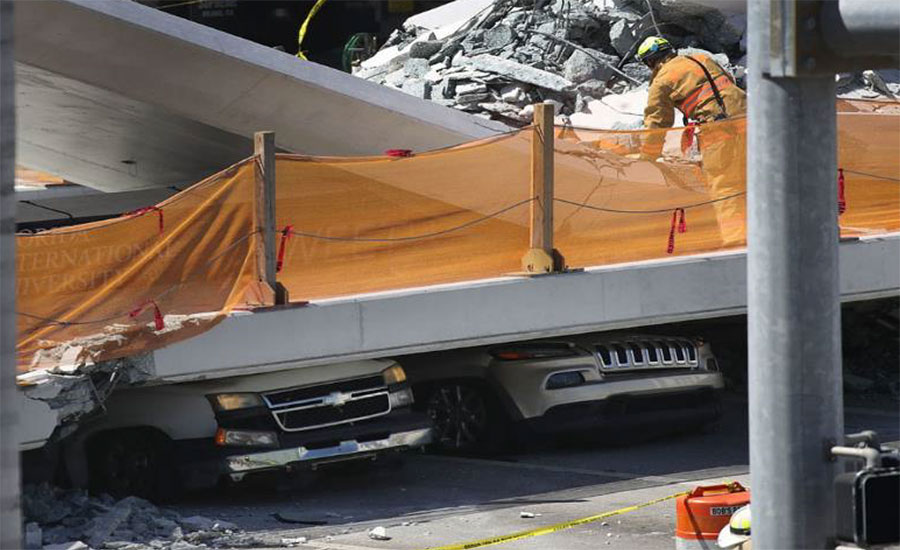 Recommendations in full:
>Projects should undertake 'what if' contingency planning. What can go wrong, and how do we prevent it or mitigate it? In the case of the Florida bridge, there were weeks to consider the consequential effects of the developing cracks.
>All increases in crack width, particularly those that occur over a short period of time, must be taken seriously and assessed by an expert.
>Due to the increasingly fragmented nature of the industry, it is often observed that engineering decisions are made by non-engineers, without consulting competent engineers. This results in significant safety risks due to non-engineers not understanding the implications of their decisions. This is a serious and widespread issue, which the industry needs to recognize, and find a way to prevent from happening.
>Design and Build contract procurement methodology needs to ensure that there is an appropriate level of Designer input and supervision on site, to assure quality and safety.
>Projects should check the alignment of the procurement strategy and contracts with the competence of those involved, and the complexity of the work.
>Train engineers to recognize, through learning and experience, the early warnings of failure.
>The industry must do more to ensure competency of individuals and companies is demonstrated.
>There is often undue pressure on duty holders, which can lead to compromising quality and safety. SCOSS believe that this is unacceptable behavior, which needs to be rooted out. There is a strong case for improved teaching on behaviors and the impact culture has on safety and quality. The Institution of Structural Engineers and Institution of Civil Engineers resources on engineering ethics are a good starting point for education on behaviors.
Images Courtesy: Online News Sources.